Landscaping Tips to Prevent Mold & Mildew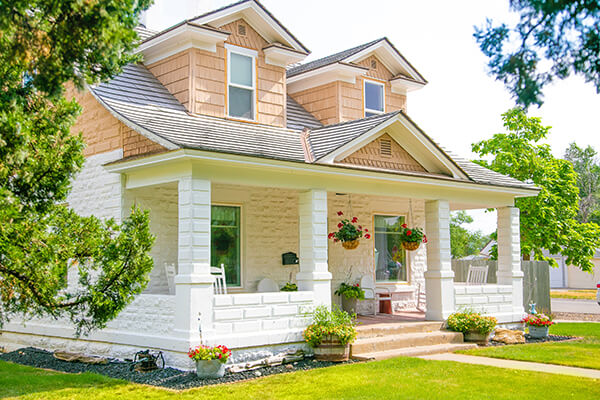 Your outdoor patios and yards can quickly become potential breeding grounds for mold and mildew. These areas offer all the food mold needs to develop- be it the moisture from drains or the humidity in the air. You'd be astonished to know that even the morning dew can offer enough moisture to encourage mold and mildew spores in your gardens. And soon, you're bound to see the black and green fungi across your landscape.
Mold and mildew contamination can result in severe health hazards and cause property owners SIGNIFICANT renovation expenses for mold remediation. That's why it's better to try to avoid mold from growing and becoming a nightmare to cure in the future. Lucky for you, there are several landscaping tips you can apply to your house and prevent mold and mildew like a pro. 
Below, we list four essential mold prevention tricks for your house. Continue reading to learn what to do when you see mold infestation in your outdoor space. 
Let's get started! 
Check the Outdoor Drainage 
The most crucial thing is to check your outdoor drainage regularly. That's the biggest indicator to know if there's mold outside your house or not. You can observe the drains to check the water flow and its direction. That can even help you assess for signs of the sewage backing up inside your property and causing basement flooding. 
If you see water puddles around your house, it highlights ineffective drainage that needs immediate addressing. The accumulated and stagnant water on your walkways and backyards can cause mold and mildew growth. The moisture can also seep inside the ground and weaken the foundations of your home. That can even result in basement leaks and mold growth in your basement. Therefore, it's ideal for checking the drains every few weeks and contact technicians to keep the outdoor gutter in workable conditions. 
Don't Overfertilize Your Yard. 
Putting too little fertilizer means unhealthy and almost withering plants. But adding way too much can be slightly dangerous for the plants and boost the risks of mold infestation. Overfertilizing creates more moisture in your gardens than your plants require, and the excess water levels can act as perfect foods for white mold. 
Therefore, when you're fertilizer your soil, you must be extremely careful not to overdo it. You can ask your local gardener the ideal amount of fertilization your yard requires to make the land nutritious for your plants without encouraging white mold. 
Avoid Regular Pressure Washing 
Pressure cleaning sounds satisfying and watching the dirt wash away from your driveways, walkways, porches, and between the pavers seems appealing. But here's a disclaimer: it can be significantly destructive. 
Power washing once a month or two is alright, but regular exposure of your pavements to pressured water can damage the softer surfaces and create small holes. Water can fill such gaps and eventually absorb under the land until it seeps towards the foundations. So, if you see bits of sand or gravel while pressure washing your outdoor land, that's a red flag that can cause mold contamination. 
Don't Overwater 
Keeping your lawns vibrant looking lush green doesn't mean you overwater your flora. In fact, overwatering can cause water to settle on top of your soil and slowly sweep towards the other parts of your property, including driveways and walkways. The water can even accumulate in the pavers on your porches. 
That can encourage mildew infestation and damage your plants. So, you must make sure to plan your watering schedules to keep your lawn as hydrated as required without overwatering the area. And while you're at it, you must also mow regularly but avoid cutting the grass too short as it can promote fungal development even more. 
How to Clean and Remove Mold & Mildew From Your Landscape? 
It's not uncommon to see the telltale signs of mold development even after taking several preventative measures. And if you see mildew on your landscape, the best way to proceed with the mold removal is by getting professional help. 
Experienced mold remediators use the safest and latest practices and equipment to treat mold and make your lawns fungus-free for your loved ones and pets. Therefore, as soon as you see mold and mildew in your garden, you must schedule remediation services right away. This minimizes the damages and clears your property from health-related dangers quickly.
911 Restoration of South Atlanta – Professional Mold Removal Near Me
Whether you're searching for water damage, sewage backup, sanitization, or mold removal, locals of South Atlanta can reach out to 911 Restoration of South Atlanta. We're a team of skilled experts offering our services 24/7. Our IICRC certified professionals handle mold and provide extensive inspection, sampling, testing, and effective mildew and mold removal. Our techs also deliver structural drying and dehumidifying to keep the mold away for a long time. 
You can click on our website for further information on our service areas and insurance assistance. Feel free to submit your questions and concerns through our online contact form or call (478) 210-4290 to schedule your appointment. Our representatives make sure to respond within 45 minutes to deliver prompt services to you.