Commercial Restoration
As a commercial property owner, you're already aware of the challenges property damage brings to your business. Not only does it harm the property itself, but if left unchecked the operations of your business can become compromised. Whether it's water damage, fire damage, sewage backup, or any other type of property damage, failure to act quickly might result in you closing the doors, which only harms your bottom line.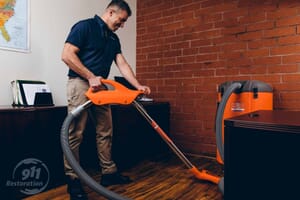 At 911 Restoration of South Atlanta, our IICRC certified technicians understand how important it is to maintain normal business operations, which is why we work hard to restore the property to good as new as soon as possible. Plus, our comprehensive approach ensures that you won't have to worry about additional complications in the future.
Our success in commercial restoration can be attributed to our ability to adjust to any type of property damage that strikes. We know that different problems require different approaches. In addition to our knowledge, we also arrive within 45 minutes of receiving your call 24/7/365.
Get the professional help you need by calling 911 Restoration of South Atlanta. Don't delay in getting the Fresh Start you need to stay in business in South Atlanta.
Stay up to Code With Water Damage Restoration
Water damage can leave commercial properties in a state of disrepair that makes it impossible to remain up to code. That's why professional water damage restoration is necessary to satisfy zoning requirements along with building codes.
Thanks to the help of trained professionals from our IICRC certified technicians, you can count on every aspect of your water damage restoration remaining handled correctly. In addition to fixing the water damage, we also perform the needed repairs to restore the property to good as new.
Before we get to work, we always make sure our first task is ensuring the source of the water damage has been stopped. Performing this task will prevent the problem from growing out of control. Once done, we can perform our visual water damage inspection before we begin the water extraction and drying process. After the property is dried out, we finish things up with repair work.
With 911 Restoration, some of the benefits you receive when fixing water damage include:
Free Visual Inspection for Property Owners Only
Storm Repairs
Disaster Restoration
Water Extraction
Pipe Burst
Leak Detection and Repair
A Team That Cares & Understands Your Needs
Highly Trained Technicians Providing You With Peace of Mind
And More
Our IICRC certified technicians are licensed, bonded, and insured at 911 Restoration of South Atlanta. No matter what, we always approach your water damage restoration with an action plan tailored to your needs. Call the moment you become aware of water damage to prevent additional problems such as mold or building shutdown.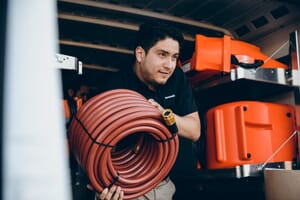 We'll Handle Your Flood Damage Restoration
Flood cleanup, also known as flood damage restoration is a specialized process made to combat the additional problems that floodwater brings. Besides the higher water levels, the water is often contaminated thanks to it usually coming from a pipe burst. In most buildings, this shows up as a flooded basement.
When these pipes burst, this can result in contaminated water that contains anything from dirt to raw waste depending on the type of pipe that bursts. For this reason, it's important to take immediate action to ensure everyone remains safe and healthy. It's also why our flood cleanup process starts with a combination of decontamination and mold decontamination.
During this step, all traces of bacteria and mold are eliminated before we focus on our water extraction and drying process. Once this step is finished, only then can we move onto the water extraction and drying process. During this part of the process, we also perform the needed repairs to get your building up and running again.
Keep in mind that flood damage is covered by insurance in most cases. Thanks to our years of experience, we are uniquely qualified to assist our commercial restoration customers with every aspect of their insurance claim. In fact, we can even file the claim on your behalf if you'd rather we do so. With us, you can rest easy knowing you're taken care of both on-site and behind the scenes so you can focus on running your business.
When you need service that doesn't compromise its standards, then call 911 Restoration of South Atlanta for your commercial restoration needs. Get the Fresh Start you need to stay in business in South Atlanta.
Serving the communities of Fayetteville, Hampton, Jonesboro, Peachtree City, Riverdale and surrounding area.