Disaster Restoration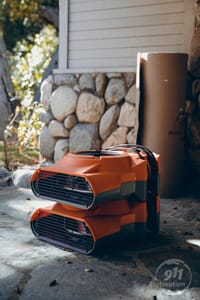 If there's one truth about any disaster, it's they strike at any moment without warning. For this reason, our IICRC certified technicians are standing by ready to assist 24/7/365 to get to work on repairing any damage taken by our customers. We believe that disasters are problem enough, that's why disaster restoration should be a smooth and easy process. To help commit to this belief, we guarantee to arrive within 45 minutes ready to get to work on your disaster restoration.
Our customers know they can depend on us for the following:
Guaranteed availability 24/7/365
Care and understanding of your needs
Nationwide backing in a locally owned package
Disasters can spread from one area of the property to another area quite easily. An example of such a case would be water damage. At a certain point, the amount of water becomes floodwater, which increases the damage, but also spreads easily. Another example would be fire or smoke damage, which is common in many disasters.
That's why the solution to successful disaster restoration is to seek professional services from 911 Restoration of South Atlanta. We're trained, qualified, and equipped to deal with every aspect of your disaster restoration from beginning to end. Call the 911 Restoration of South Atlanta technicians for disaster restoration and a Fresh Start.
Disaster Restoration Specialists to the Rescue
When it comes to any disaster, the first step is to make sure it's contained. Without containment, we can't make headway in correcting the problem. Every type of damage has its own containment protocol. Water damage can be stopped by turning the water off, while fire damage requires intervention from the fire department. Understanding the protocols involved can save your crucial time that can be spent on true disaster restoration efforts.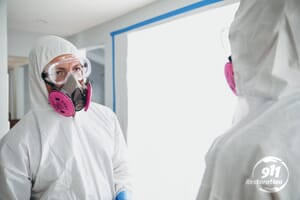 Restoring the property to good as new is the ultimate goal behind disaster restoration. Not only does this require the correct steps, but also proper timing. The sooner we understand the full scope of the damage with our visual inspection, the sooner we can establish the appropriate remediation procedures to get your home back to good as new.
Most forms of property damage carry the potential of creating secondary damage. Fire damage results in water damage. Water damage creates mold contamination. As such, we take the time to check for signs of secondary damage during your disaster restoration. The sooner we identify these signs, the more likely you are to enjoy a smoother restoration process.
That's why our disaster restoration specialists train across multiple disciplines so they can properly handle all of the different forms of property damage that can occur. When facing property damage the longer you delay the greater the chance you will fall behind during emergency restoration.
Call 911 Restoration of South Atlanta today to get ahead in your disaster restoration. Claim the Fresh Start you need.
Walking Through Your Fire Restoration Procedure
Nothing is as much of a disaster as fire damage is for property owners. Whether it's an unattended candle or a faulty wire, the end result is an emergency status that requires the fire department. Fire will continue to grow as long as there's oxygen available, which is why the first step to fire damage restoration is putting the fire out directly.
Unless the fire remains small enough to handle, the fire department will step in before anything else can happen. We get to work on your fire damage restoration and smoke cleanup as soon as the fire is put out. Our technicians always start with a visual inspection to ensure they understand the full scope of the damage.
Once the estimate is approved, we get to work on your fire damage restoration along with any other restoration needed to restore the property to good as new. Our fire restoration procedures include the following remediation techniques and services:
Cleanup of ash
Disposal of burnt possessions
Charred flooring restoration
Removal of all smoke stains and odor
Restoration of water damage as needed
And more
While we're more than prepared to handle the physical side of the fire restoration procedure, we can also assist you with every aspect of the insurance claims process. If desired, we'll even help you file your insurance claim so you know it will get approved and you can breathe easy knowing timely assistance is on its way.
Whether it's water damage restoration, fire damage restoration, or another form of disaster we're ready to get to work on your emergency restoration. Call 911 Restoration of South Atlanta today!
Serving the communities of Fayetteville, Hampton, Jonesboro, Peachtree City, Riverdale and surrounding area.