Mold Removal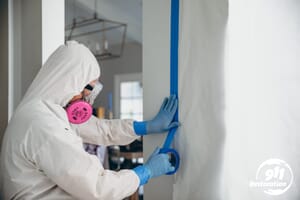 When it comes to tricky property damage for property owners, mold tops the list every time. Its ability to cause problems stems from its difficulty to detect, which is why it can be weeks or even months before mold is discovered on the property.
Since discovery can be delayed so long, our IICRC-certified technicians stand by 24/7/365 at 478-210-4290 to provide you with immediate mold remediation. Fortunately, once the signs of a mold infestation are understood, it becomes much easier to detect early. The most common signs of mold include:
Rotted wood
Crumbling drywall
Breathing problems
Headaches
Persistent cough
Stale odor
Never forget that mold removal should be left to trained mold removal professionals. Normal cleaning methods only worsen the problem for property owners. The mold spores are easily agitated, and when this happens, they become airborne, which leads to new mold colonies.
Call 911 Restoration of South Atlanta as soon as you're aware of or suspect mold growth on your property. We'll arrive within 45 minutes for our South Atlanta residents to begin working on your mold removal needs. Don't wait to get a Fresh Start today. Call us at 478-210-4290 and learn how we can help
Check the Crawlspace to Prevent Mold
Large problems such as a flooded basement or a significant roof leak make mold detection easy. However, mold thrives in dark and damp environments, which is why regular inspection of areas like crawl spaces or attics is recommended. Maintaining regular inspections can actually prevent a mold infestation before it takes root.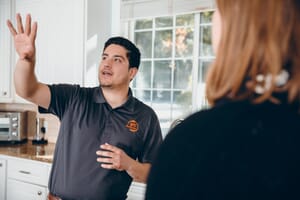 While inspections can be done by anyone, it's recommended to use the expertise of trained professionals like our IICRC certified technicians. Not only do we know what to look for, but we also have the equipment needed such as infrared cameras to properly detect signs of mold growth. Plus, if mold is detected, we're already on the scene ready to get to work.
In addition to better results, we're also better protected in case toxic mold is a problem. The darker the environment, the more likely toxic mold is to exist on the property. Your safety is important to us, which is why we don't cut corners in our visual mold inspection.
As soon as you suspect or discover mold, call 911 Restoration for a mold inspection or mold removal in South Atlanta. We'll take care of every aspect of your mold infestation to deliver the Fresh Start that has you breathing easier. call 911 Restoration of South Atlanta at our number 478-210-4290
Mold Removal Requires Water Damage Restoration
It's definitely a good thing to seek professional mold removal. However, mold remediation alone is only so effective in restoring the property to good as new. Don't forget that mold needs moisture to thrive in addition to darkness, which means it's likely you'll need water damage restoration services to fully correct the problem.
Our mold specialists believe in treating the problem, not just the symptoms. That's why we tackle both the mold and the source of your mold contamination. By doing this we ensure our South Atlanta customers see immediate success along with receiving protection against future mold infestation.
We work to deliver a comprehensive mold removal approach, which is why our services include:
Free Visual Mold Inspection for Property Owners Only
Mold remediation
Mold decontamination
Mold Inspection
Water damage restoration
And more
We can guarantee success because we only use the latest techniques and equipment to dry out and dehumidify the affected area. Plus, our visual mold inspection ensures we detect and repair any signs of water damage that is contributing to your mold problem. Our IICRC certified technicians will repair everything from a pipe burst to a leak in the ceiling and much more.
Thanks to our comprehensive approach, you can benefit from mold removal that is sure to have you breathing easy sooner than you think. We strive to deliver a Fresh Start to our South Atlanta customers no matter the nature of your emergency restoration. so contact us today at 478-210-4290
Mold is usually a sign of a larger problem such as water damage. As such, it's very possible that insurance can cover your mold remediation. We're experienced with every insurance provider so feel free to ask us any questions you have during the insurance claims process. If you want, we'll even file the claim for you so you can get the help you need as quickly as possible.
If you need mold removal in the South Atlanta area or just a mold inspection call 911 Restoration of South Atlanta. We'll handle everything including your water damage restoration. Within 45 minutes our mold specialists will arrive to provide you with a Fresh Start.
Serving the communities of Fayetteville, Hampton, Jonesboro, Peachtree City, Riverdale and surrounding area.