Water Damage Restoration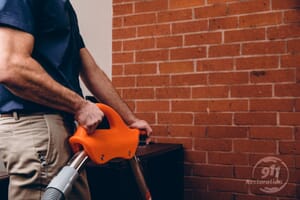 Water damage restoration is a complex process that is best left in the hands of trained professionals like the IICRC-certified technicians like the ones at 911 Restoration of South Atlanta. Not only does water damage harm the property, but it also can result in long-term issues such as structural damage or mold infestation.
It doesn't take much for water damage to happen. Whether it's a roof leak, storm damage, pipe burst, or even a simple toilet overflow, the end result is the same. Professional water damage restoration is necessary to correct the problem.
To combat this problem, we make sure our IICRC-certified technicians are prepared and equipped to handle your water damage regardless of its source. For this reason, we only use the latest equipment to handle your water extraction. We don't believe in taking chances, which is why we double-check our efforts with an infrared camera to ensure not a single wet spot has been missed.
With water damage, it's all about the speed of response. That's why we base our business around our 45 minute response time and 24/7/365 availability. By doing so, we ensure that you and yours are able to get back to normal life as soon as possible.
If you're suffering from flooding or any other form of water damage such as frozen pipe, don't hesitate to call the technicians at 911 Restoration of South Atlanta to address all aspects of your water damage restoration. Calling now can keep the need for mold removal from happening. Plus, it will deliver the Fresh Start you need to move forward.
Watch out for Water Damage All Year
Water damage prevention requires commitment all year. Different seasons and conditions create different opportunities for water damage to occur. For this reason, it's recommended to take preventative action where possible to mitigate damage from sources such as pipe bursts or roof leaks.
Stop water damage with the following tips:
Roof and gutters: Your roof is the first line of defense against water damage from the outside. It's also the most vulnerable. By inspecting the roof and gutters regularly, you can stop potential water damage in its track. Be sure to check after every storm due to the high damage potential of storms.
Double-check appliances and fixtures: When appliances or fixtures are compromised, this can lead to a slow buildup of water damage, which is actually more harmful. Damage over time means additional damage can develop such as mold. Plus, compromised fixtures can result in leaks behind the wall, which is harder to detect.
Check your plumbing: Pipe bursts happen due to a buildup of pressure. One of the ways this can happen is if you have frozen pipes. The water has nowhere to go, which forces the water to explode out of the pipes through the seals. Maintain regular inspection to prevent this from happening.
By protecting against water damage, you prevent costly damage that's hard to recover from. Keep in mind that our brief tips aren't meant to account for every possibility. That's why we gladly provide assistance to our South Atlanta customers.
Don't wait to contact our IICRC-certified technicians at 911 Restoration of South Atlanta for everything from water damage inspection to flood cleanup. We'll arrive within 45 minutes ready to start working on your water damage restoration so you can get the Fresh Start you deserve.
Handling Water Damage Restoration in South Atlanta
Despite the complexity of water damage restoration in South Atlanta, we can proudly say we've honed this process to perfection. During our efforts, we keep your needs and concerns in mind while delivering a streamlined approach guaranteed to provide results.
We accomplish this by providing:
Free visual inspection for property owners only
Water extraction
Roof repair
Structural damage evaluation
Leak detection and repair
And more
In most cases, water damage is covered by insurance. Our years of experience enable us to be uniquely qualified to walk you through the insurance claims process. We've worked with every major insurance provider so we know the claims process inside and out. We'll answer any questions you have and even file the claim for you if you choose to have us do so.
No matter what you need help with, we have you covered from start to finish. If you need water damage restoration in South Atlanta then call us today. We'll be show up in 45 minutes to assist you through every step of your water damage restoration for the Fresh Start you need.
Serving the communities of Fayetteville, Hampton, Jonesboro, Peachtree City, Riverdale and surrounding area.