Water Damage in South Atlanta
Weather Alert: If you are experiencing storm damage from tornadoes or severe weather, call us today for emergency assistance!
911 Restoration of South Atlanta
There's no question that water damage is both destructive and common for property owners to face. While there are ways to lower your chances of preventing this from happening, sometimes it's unavoidable. Whether it's a leak behind the wall that builds up over time or a pipe burst, the impact can be devastating on your property if left unchecked for too long.
While water damage may occur at any time, the real threat comes from how easily it creates secondary damage. When left alone for 24 hours or longer, the existing water damage can cause a mold infestation to develop. The longer the delay in correcting water damage in South Atlanta, the further the mold spreads throughout the property.
That's why the secret to successful water damage restoration is taking prompt action by hiring trained professionals to handle your water damage in South Atlanta. Our IICRC certified technicians are determined to deliver the best result to our customers in South Atlanta.
At 911 Restoration of South Atlanta, we offer a Fresh Start with our comprehensive selection of property damage restoration services, including but not limited to:
24/7/365 availability
Same-day service
45-minute response time
Whether you're a South Atlanta homeowner or business owner, 911 Restoration of South Atlanta is your Fresh Start! We'll communicate with you throughout the entire process, help answer questions related to insurance, and restore your property to its pre-damaged condition. One of our IICRC-certified teams is dispatched within 45 minutes of your call! Contact us today, and one of our friendly representatives will assist you in finding the nearest South Atlanta location.
Whether you need water damage restoration, fire damage restoration, or simple mold removal, we have you covered. Call today for the Fresh Start you deserve.
Service area map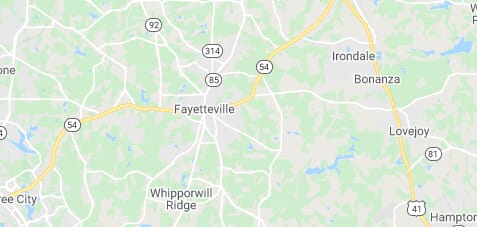 Water Damage Restoration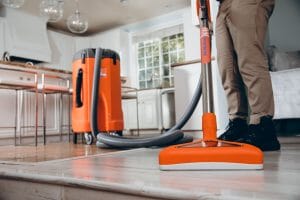 Water damage restoration is a process that requires the attention of trained professionals. Careful evaluation is needed to understand the full scope of the water damage. That's why it's crucial that the process begins with a visual water damage inspection. The inspection helps inform how severe the water damage is along with any needed repairs. Once you approve our estimate, we unload our gear and get started on your water damage restoration.
Our IICRC certified are equipped to  take care of all sources of water damage, including:
Leaks
Sewage
Pipe bursts
Damaged fire sprinklers
Flooding
Storm damage
Besides knowing the extent of the damage, it's just as important to have the tools needed for the job. That's why we only use the latest water extraction equipment and dryers. Doing so is how we guarantee a completely dry property when the job is finished.
Call 911 Restoration of South Atlanta immediately so we can start working on your water damage in South Atlanta. With us, you can count on a Fresh Start that delivers results.
Taylor Copeland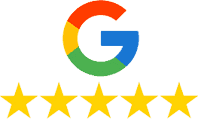 "They were very prompt and professional & they made my house feel like home again after a pipe burst. I will be recommending them to my family & friends !"
Sanitization Services & Disinfection Solutions
No one predicted that we'd be facing something as serious as coronavirus. This pandemic has affected businesses and people worldwide. That's why we all need to do our part to contain the virus before it can spread any further. A relatively easy way for everyone to contribute is to maintain their personal hygiene.
Property owners are in a great position to contribute further to the solution by ensuring their buildings remain sanitized according to the latest protocols. This will allow them to ensure everyone who comes and goes remains as protected as possible. That's why 911 Restoration of South Atlanta is standing by to perform sanitization services along with various disinfection solutions for both residential and commercial properties. All of our IICRC-certified technicians maintain their training to fully comply with all current CDC and EPA protocols in an effort to deliver optimal results with our sanitization services. You can count on our technicians to be there 24/7/365 for our South Atlanta residents to deliver the peace of mind you can count on.
Mold Removal
If the environment is especially dark or damp, you may not even have 24 hours before mold begins growing. So long as the area is dark and damp, you can expect rapid growth of your mold infestation if not controlled soon enough. This is a severe problem since it harms your property by eating away at organic materials including wood, carpet, sheetrock, and other organic materials.
In addition to physical damage, mold will also cause health issues such as headaches, nausea, and other symptoms considering its classification as an allergen. For those who are asthmatic, breathing issues can become an even larger concern. While you may be tempted to clean the mold yourself, this would be a mistake since normal cleaning methods are ineffective.
That's why we use the latest containment measures and vapor barriers to prevent the mold from reaching other areas of the property before beginning treatment. Plus, we use water extraction to dry out the property to prevent the possibility of recurring mold.
If you have observed mold or are feeling ill without reason, call 911 Restoration immediately to investigate and handle your mold removal. We'll provide the Fresh Start that has you breathing easy.
Sewage Backup and Cleanup
Water damage is bad enough on its own. However, sometimes this can take the form of a sewage backup, which combines water with raw waste. When a sewage backup occurs, a buildup of pressure develops, which is why problems like a toilet overflow or a pipe burst can develop. This requires immediate professional attention since raw waste is a class three hazardous material.
For this reason, we always wear protective hazmat gear before getting started on your sewage backup and cleanup. To address this problem, we use a combination of industrial-grade detergents and cleaners to decontaminate the area. After that's done, we use a multiple-step water extraction and drying process to dry your property out.
Your health is important, which is why we won't risk it at any time. If you're experiencing a sewage backup, call 911 Restoration promptly. We'll be there shortly to deliver the Fresh Start you need to remain safe.
Fire and Smoke Damage Restoration
Fire is an immediate danger to people as well as the property. No matter how quickly the fire is stopped, the end result is a need for professional fire and smoke damage restoration to restore the property to good as new.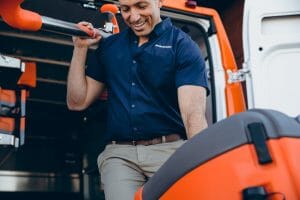 This is a complex process due to fire creating damage on three levels. There's the scorch marks, smoke odor, and soot that fire and smoke caused. However, water or water-based solutions are usually used to contain the fire. This results in water damage and possible mold contamination if left untreated. That's why we provide a complete approach that includes a free fire damage assessment, odor removal, smoke removal, property restoration, water extraction, mold removal, and more.
Call 911 Restoration of South Atlanta for professional attention with your fire and smoke damage restoration. Get the Fresh Start you need today.
Disaster Restoration
The nature of disasters is their ability to strike at any moment and with devastating impact. At 911 Restoration of South Atlanta, we understand that better than anyone. That's why we're ready to assist with all aspects of your disaster restoration at all hours of the day or night.
We help our customers through both the physical and financial side of their disaster restoration. While we're correcting the physical damage to your property, we're walking you through the insurance claims process.
Call 911 Restoration today. Your Fresh Start is waiting.
Commercial Restoration
When property damage hits your commercial building, it can harm your bottom line. That's why timing is crucial to ensure your property remains up and running. Regardless if it's water damage, fire damage, or a full disaster we're ready to help you with your commercial restoration.
Need commercial restoration? Call 911 Restoration of South Atlanta immediately. Get the Fresh Start you need to stay in business.
Serving the communities of Fayetteville, Hampton, Jonesboro, Peachtree City, Riverdale and surrounding area.