Sanitization Services and Deep Cleaning in South Atlanta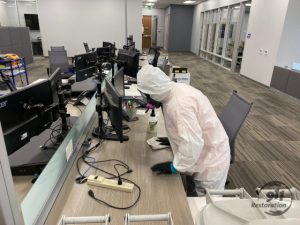 The spread of the coronavirus through South Atlanta has been a subject of major concern for all of us. Protecting our community during this pandemic may mean making extensive changes to your daily schedule and habits. Your schedule may adjust again as restrictions for quarantine procedures begin lifting around the city. 
The sanitization specialists at 911 Restoration of South Atlanta may be able to help you as you reopen your business. We focus on providing disinfection solutions that are based on the most up-to-date recommendations issued by the CDC and the EPA. You can count on us to provide you with sanitization services in South Atlanta during the coronavirus pandemic.
You may contact our sanitization crews around the clock to begin getting the help you need. We are here to serve you 24/7/365, so you do not have to wait to get back your peace of mind during this challenging period of time. You may reach out to us to get help with sanitization services within 45 minutes, throughout the South Atlanta area.
Once you contact 911 Restoration of South Atlanta, we may be able to begin cleaning your property. You can rely on us for office deep cleaning, sanitization of commercial property, and more.
Focus on Disinfection Solutions in South Atlanta
Businesses around South Atlanta are beginning to reopen as restrictions ease around the state. While some businesses remained open throughout the earlier stages of the pandemic because they provided essential services, for many businesses this is a chance to reopen the doors to customers. 911 Restoration of South Atlanta may be able to help you get your property clean and sanitized to ensure returning employees and customers feel confident.
You may contact us when you want sanitization services in South Atlanta. We may be able to:
Clean surfaces in your property with soap and water

Scrub down surfaces with sanitizers approved by the EPA

Set up a schedule to handle regular sanitization
While businesses are reopening in South Atlanta, you should be aware that the coronavirus continues to spread through our area. There is not a vaccine or treatment available for the coronavirus at this point. You may maintain your peace of mind during as businesses reopen by focusing on regularly scheduled sanitization services. 911 Restoration of South Atlanta may provide you with commercial or residential disinfection solutions, starting right now. Contact us today to review all your sanitization options.